We are just a few days away from the 2023 F3 Naperville Foundation 5K!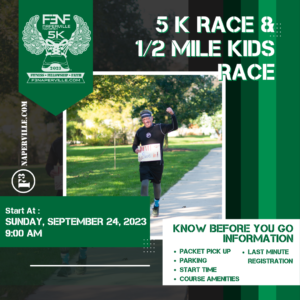 We hope everyone is getting excited! A few reminders:
Registration will remain OPEN until race day
Race Shirt & Bib bag pick-up will be this Saturday (September 23, 2023) at Naperville Running Co's south location located at 3416 S. Route 59, Naperville, IL 60564 from 10am – 2pm.

Pick your bags up and avoid long lines on Race Morning.

There will be FREE Parking on-site. Parking is located through the St. James Farm 'Special Use Entrance' located off Butterfield Road (N on Madison St, W on H oy Ave) NOT the Main Entrance off Winfield Rd.
The 5K Main Event will begin promptly at 9 am. The course is a ~1.5 mile loop which you will run, walk, jog TWICE. There will be directional arrows and a digital race timer at Mile 1 and Mile 2 this year
The Kid's Race will be about ~0.4 miles this year and will begin approximately around 10 am.
Optimum Nutrition will have some Amino beverages, Protein bars, and other nutrition giveaways
Kona Ice will once again be on-site, providing FREE crushed ice cups for all children!
There will be On-course hydration available so feel comfortable leaving those water bottles in the car if you would like
There will be a Live DJ, bring some energy!
Lots of our amazing Sponsors will have tables and tents on-site, make sure to walk by and say 'Hi'!
Have FUN!! This is most certainly a race, but is also a great family-friendly event as well as a fundraiser.
Thank you for your generosity and support of the F3 Naperville Foundation!