Time for our Region to show it has what it takes to become the 1st annual Northern Illinois Regional FNG Champion! The Challenge is simple:
Bring in a minimum of 2 FNGs during this challenge window to have your name placed in a drawing for a significant prize basket. Bring in any additional FNGs and you will get another entry to possibly win a basket. (i.e. 2 FNGs= 1 Entry, 3 FNGs= 2 Entries and so on) Baskets are donated by regions participating in this challenge and some have specific items like area region coffee or alcohol. (More info on what is in these baskets to come) There will be prize baskets donated from multiple regions. So chances are good you could win one. Trust me, you will want these baskets.
Regions are competing for the crown, so each FNG who counts for your region will be tallied and totaled at the end of the challenge period. (Scoring details are being finalized and will be announced soon) Winning region will receive monetary donations to the charity of their choice from all other participating regions. Total number donated will equal total number of FNGs brought in all regions during this challenge. (i.e. 347 FGNs=$347 donated by each losing region to the winner)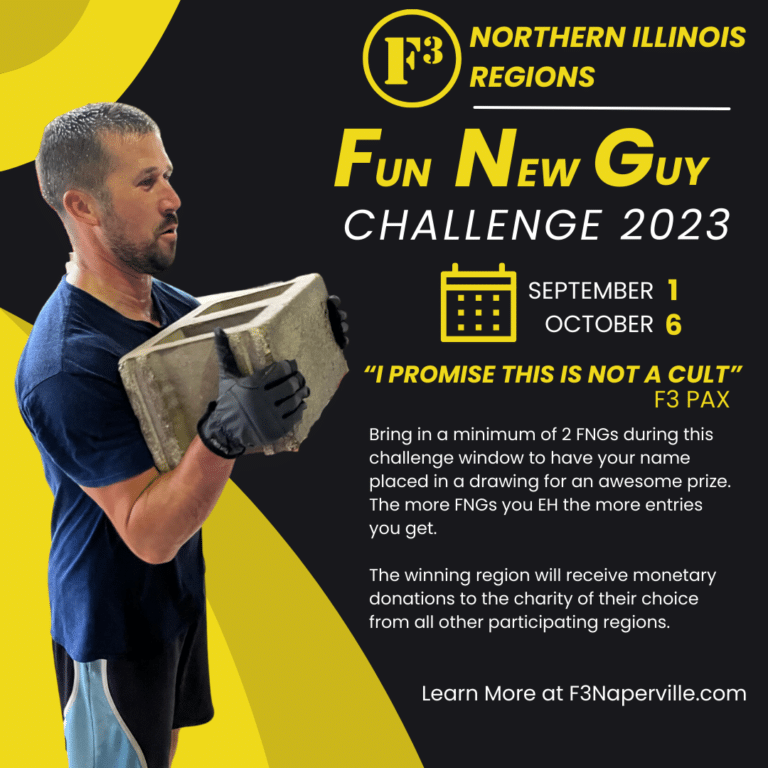 No region is too big or to small to participate! This challenge is to promote F3 and to GIVE THIS THING AWAY! You know sad clowns around the area need this and here is your chance to get reward for your efforts to finding and bringing these men out into the Gloom. No matter how you feel about this challenge, at the end of the day, the real winners will be the men we bring out! LFG!!
This contest will take place from September 1st to October 6, 2023.