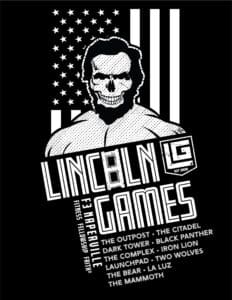 The numbers have been tallied and we are pleased report the results for Lincoln Games 2022.
Check out some sights and sounds on our Instagram profile here.
While the physical accomplishments were impressive, Lincoln Games represents much more for F3 Naperville. The week of competition helps accelerate our 2nd and 3rd F programs which align with Fellowship and Faith/Community respectively.
From a 2nd F perspective, the 21 teams were comprised of individuals who may not have known each other, so competing together for a week has forged bonds that did not previously exist. Many teams coordinated their workout schedules together, had points strategy sessions, and got together for meals and fellowship beverages.
From a 3rd F perspective, our region was able to raise more than $6,500 for local charities, including $3,565 for our F3 Naperville Foundation. Through the generosity of F3N PAX 'Serena' and his employer IntenGen Financial Partners, an additional $1,000 was committed to the Foundation in conjunction with the Lincoln Games.
Reinforcing the fact that F3 is "more than a workout," pop-up challenges posted each day for extra points had PAX buying flowers for their spouse or someone important in their lives, which drew out some inspiring stories of what that person means to them. Another pop-up asked PAX to take a pie to the face from their kids, and some memorable laughs were heard. Other pop-ups had PAX chugging two beverages of their choice in less than 60 seconds and explaining how they got their F3 name, dumping ice water over their heads while impersonating their favorite pro wrestler and citing which chapter of the F3 Q-source they were going to read, or bench pressing a certain weight for 5 or 10 reps based on their size.
Cumulative Region Stats
Below are the combined stats of the 398 F3 Naperville PAX that participated in Lincoln Games 2022:

1,510 workouts completed
398 PAX scored at least 1 point
33 Friendly New Guys (new members joined during the week)
2,928 miles ran
3,673 miles rucked
4,910 miles biked
$6,500+ donated
78 PAX used the "Big Boy" coupon for at least 5 workouts
134 PAX signed up to volunteer at Feed My Starving Children
221 Flowers bought for Ms and 2.0s
231 PAX consumed two beverages in <60 seconds
150 Pies to the face
But if you've read this far, you likely want to know the final scoreboard. Without further delay – below are our top scoring teams and individuals from the week of competition. As a reminder you can learn more about points could be scored here.
Top 5 Teams
Flying Hellfish

– 2,138 points
Captain: Shirley Temple
PAX: Handy Manny, Dorn, Thumb Drive, Stay Puft, Blow Dry, Leuben, Bongo, Rusty, Ring Worm, Crab Legs, Big Wheel, Swass, Mortimer, Tent Sale, Standard Issue, Buttermaker, Dish, Lois Lane, Body Glide, Grimace, KOKO, Niners, Mayhem

Wreckin Crew

– 1,590 points
Captain: Overthrow
PAX: Riunite, Uncle Rico, At-At, Wire Nut, Rain Man, Twilight, Face Plant, Disclaimer, Dabo, Rooney, Unicycle, Milton, Pedro, BubbleWrap, Archie, Singlet, Uncle Si, Encyption Key, Mumbler, Aflac, Paula Deen, Jellystone, Bob Villa

Chazzercise

– 1,565 points
Captain: Chazz
PAX: Blues Clues, Mudslide, Shandy, Bear Spray, Webelos, Chain Link, Ronda Rousey, Barbara, Upper Decker, Overdraft, Full House, Jackie Chiles, Cage Free, Ghost Pepper, Chop Shop, Lumpy Fields, 2 Hand Touch, Pepper, Belly Flop, Vegan

Wu-Tang

– 1,529 points
Captain: Tang
PAX: Snots, Sparky, Wet Wipe, Mary Lou, Turner, Marla Hooch, Long Story, Choo Choo, Chachki, Gunther, Dr. Ralph, Gargamel, Room Service, Overhead, Putz, Toothpick, Catheter, Bunyan, Juice Box, Percy, Ziplock, Caboose

Team Glenn

– 1,493 points
Captain: Glenn
PAX: Blinky, Augustus Gloop, Slumlord, Tonka, Townie, Cupcake, HH Gregg, Sweet Gherkins, Blart, Splice, Fake ID, Tailspin, Barcode, Backstage, Switch, Brown Out, Choco Taco, Frank the Tank, Bunker, Great Clips, Swoosh, Grease Monkey, BTeam
Top 20 Individual Scorers

| | | |
| --- | --- | --- |
| PAX | Team Captain | Total Points |
| Blues Clues | Chazz | 234 |
| Parks n Rec | Elway | 229 |
| Gordon's | Serena | 215 |
| Overthrow | Overthrow | 214 |
| Kaputsa | 1Bar | 202 |
| Snowden | Radio Flyer | 201 |
| Laimbeer | 1Bar | 196 |
| Chazz | Chazz | 194 |
| Baby Hands | Sputnik | 192 |
| Ring Worm | Shirley Temple | 187 |
| Heisenberg | Columbus | 182 |
| Doback | Doback | 180 |
| Sam Walton | Sam Walton | 178 |
| Shirley Temple | Shirley Temple | 175 |
| Dorn | Shirley Temple | 175 |
| Elway | Elway | 172 |
| Bean Counter | Columbus | 170 |
| Handy Manny | Shirley Temple | 169 |
| Big Gong | Doback | 168 |
This week wouldn't have been possible without the leadership of our First F Q Blues Clues. Not surprisingly, he raised the bar even higher for our third edition of Lincoln Games, and we have collective gratitude the energy and encouragement he brings to the program.
Until next year!